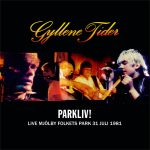 40 years celebration of Gyllene Tider continues.
Friday May 17- stores will open up pre-booking of catalogue-titles from Gyllene Tider – all on vinyl!
The three first albums in Swedish (Gyllene Tider, Moderna Tider and Puls). Remastered for vinyl from original studio tapes.
The classic summer tour from 1981 will also, for the first time ever, be released on vinyl.
All releases will come on regular black vinyl but also on a limited, numbered, coloured vinyl edition of 500 units.
All titles will be released on Friday June 21