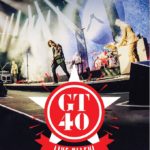 Finally there will be a Gessle related BD release! On Monday GT40! live from Gothenburg will be released. But it will also be out digitally!
Also, all the photos in the booklet and on the sleeve are taken by no other than GT.com's Kai-Uwe Heinze!
Sommaren 1978 bombarderas samtliga svenska skivbolag med demokassetter poststämplade i Halmstad, innehållande låtar som "En konstig tjej", "Rembrandt", "Mona Lisa", "Billy" och "När alla vännerna gått hem" med ett förhoppningsfullt nytt band som kallar sig Gyllene Tider.
Samtliga bolag skickar mer eller mindre artiga refuseringsbrev tillbaka till den 19-åriga låtskrivaren Per Gessle, som då inser att om bandet någonsin ska få ut en skiva måste de nog göra det i egen regi. Taktiken lyckas och våren 1979 får Gessle, Mats "MP" Persson, Göran Fritzon, Anders Herrlin och Micke Syd Andersson det skivkontrakt som via hitsingeln "Flickorna på TV2" ska göra Gyllene Tider till en institution.
Vad som följer är en närmast ändlös kavalkad av hits: "När vi två blir en" spenderar sexton veckor på Topplistans förstaplats över jul och nyår 1980-81, "Sommartider" skriver 1982 in bandet som officiell leverantör av soundtracket till den svenska sommaren – och då har vi inte ens nämnt låtar som "(Kom så ska vi) Leva livet", "Ljudet av ett annat hjärta", "Tylö sun", "Flickan i en Cole Porter-sång", "Det är över nu", "Juni, juli, augusti", "Kung av sand" och inte minst "Gå & fiska!".