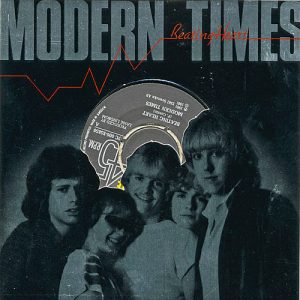 Tracks
A. Beating Heart (lyrics)
B. To Play with Fire (lyrics)
Release info
"Beating Heart" is a promotion single with English versions of Gyllene Tider's songs "När vi två blir en" ("Beating Heart") and Leka med elden ("To Play with Fire".) Both of these songs were unavailable on any other EMI release until 2019 when they were digitally released on Tidiga Tider and on Moderna Tider 40 in 2021.
This single was the first attempt to promote Gyllene Tider outside of Sweden and they chose the name Modern Times for this project since nobody would be able to pronounce Gyllene Tider abroad. The name was later trashed due to the existence of another band already named Modern Times.
Only 300 copies of this single were made and some of these were sent to the EMI offices in Europe to find out any interest in releasing an album by the group. Only EMI Guatemala responded positively, joked Per Gessle. In reality only EMI Ireland were "interested" and ordered 10 singles, likely to be polite.
Gyllene Tider actually recorded a whole album with English versions of some of their songs but since none of the EMI companies showed any interest in this single the album release was canceled. The full tracklist of the album can be found in the biography "Att vara Per Gessle."
Here's the original pressrelease, verbatim:
For many people abroad, Sweden is ABBA, Volvo and Björn Borg. But a country can't survive on such small amounts of activity and when it comes to music Sweden has plenty more to offer! For example a bunch of young guys called GYLLENE TIDER.
In 1977 two of these boys, PER GESSLE and MATS PERSSON started writing songs and soon after, they had put the band together with MIKAEL ANDERSSON, ANDERS HERRLIN and GÖRAN FRITZSON helping them out.
At their own expense the boys cut an E.P. which eventually arrived at EMI and the rest is kind of "rags to riches" story here in Sweden.
During the summer of -79 PER and MATS wrote material for GYLLENE TIDER's first album. Their goal was to make the LP a collection of single material. Ambitious maybe! But obviously they succeeded. More than 140.000 bought the records which in Sweden is a more than satisfying figure.
From the album two singles were chosen. "Flickorna på TV2" and "Ska vi älska ska vi älska till Buddy Holly" selling 25.000 and 10.000 resp.
This was a lift-off which even impressed the boys in the group but also made them aware of the fact that their next album must be even better. They had seen too many "one-hit-wonders." So with this in mind, they wrote the material for album No. two, which was called "Moderna Tider" ("Modern Times").
No-one can doubt the fact they'd done it again…
The album has to date sold 270.000 copies which make them strong competitors even to ABBA on the Scandinavian market. The single drawn from the LP "När vi två blir en" has sold 90.000 copies.
And now EMI have stared considering territory outside Scandinavia. A single has therefore been recorded in English.
On the one side is "Beating Heart" and on the other a ballad called "To Play With Fire."
Both tracks show the quality and capacity in the group.
As it is absolutely impossible for people outside Scandinavia to pronounce the name GYLLENE TIDER the boys call themselves MODERN TIMES on the sleeve.
But although the name is changed the music isn't! And there's plenty more to come…
September 1981
Release date
1981-09-01 // EMI Parlophone / Catalogue 7C 006-35850: 2 track 7″ single