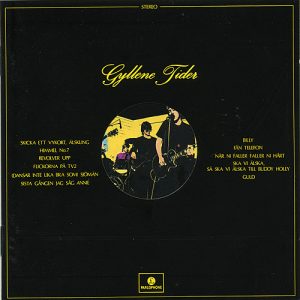 Tracks
1. Skicka ett vykort, älskling (lyrics)
2. Himmel No. 7 (lyrics)
3. Revolver upp (lyrics)
4. Flickorna på TV2 (lyrics)
5. (Dansar inte lika bra som) Sjömän (lyrics)
6. Sista gången jag såg Annie (lyrics)
7. Billy (lyrics)
8. Fån telefon (lyrics)
9. När ni faller faller ni hårt (lyrics)
10. Ska vi älska, så ska vi älska till Buddy Holly (lyrics)
11. Guld (lyrics)
Bonus tracks 1990 & 2000
12. 24 december (lyrics)
13. Åh Ziggy Stardust (var blev du av?) (lyrics)
14. Marie i växeln (lyrics)
Release info
Gyllene Tider's first full length album, featuring the singles "Himmel No 7″/Flickorna på TV2" and "Ska vi älska så ska vi älska till Buddy Holly". The album reached #1 on June 12 1980. A small number (9,000 copies according to Per) was released on yellow vinyl. December 31, 1982 the album had sold 154,475 copies.
The album was released on CD in 1990 with a few bonus tracks added. It was also released again in 2000, now in a remastered digipak edition featuring the very first EP as a bonus disc. When Gyllene Tider turned 25 in 2004 this album was re-released again, but it's the same release as the 2000 one.
In 2007 the album was yet again re-released, this time without the bonus tracks. So far the album has sold in excess of 250,000 copies.
Chart peak position
Sweden: #1 June 13, 1980
Norway: #27 February, 1981
Release dates
1980-02-18 // EMI Parlophone / Catalogue 7C 062-35709: 11 track LP and MC
1990-07-03 // EMI Parlophone / Catalogue 7942192: 14 track CD in Kompakta Tider
2000-05-16 // EMI Parlophone / Catalogue 5253362: 14 track CD plus the Billy EP as a bonus CD
2004-03-24 // EMI Parlophone / Catalogue 5253362: 14 track CD plus the Billy EP as a bonus CD
2007-04-11 // EMI Parlophone / Catalogue 3630782: 11 track CD
2019-05-21 // Cosmos Music / Catalogue 7332334438284: 11 track LP in black and colored vinyl
Liner notes
Per Gessle, 1990:
EMI Studio 2 in Stockholm was very small, hot and a bad little box that couldn't impress anyone, except five pale youngsters from Halmstad. We walked in in August 1979 and were very excited by the sight of all the buttons and lights and JBL speakers and Studer tape recorders and… I'll be damned, they even had a multi-line telephone??!!
We had met Lasse Lindbom a few times before. He had been down to Harplinge and checked a rehearsal (I remember him with purple gym shoes in the middle of the slushy weather, very impressive.) We liked him! He understood us and even fixed Fritzon some beer at Victoria in Kungsträdgården… Björn Boström soon joined the team. A happy fellow from the south who knew his story of rock and never failed to favor a pop thief… We had no problems whatsoever getting along… We really loved recording! Everything worked, from start to end. The first song was 'När ni faller faller ni hårt'. And I'll never forget how we passed the first cassette copy around in a single room with tripple beds at Hotel Mornington (which had a weekend offer). Really exciting! Unbelievable sound! We even dared to let our friends from Halmstad listen so they could understand how good we were! Kjell Andersson at EMI was, of course, our leading star. It was he who signed the contract with us and he was our critic and judge. The things that Kjelle didn't like, we didn't record, that's how easy it was!
The recordings took six weeks. Mats MP Persson and I stayed in Stockholm and were in on mixing the thirteen recordings. "Åh Ziggy Stardust (Var blev du av?)" (our homage to David Bowie) luckily didn't make it onto the finished LP, but appears on the CD. "Marie i växeln" was recorded somewhat later for Kjelle's project "Parlophone Pop! (Instant hits, singlar och outtakes – volume 1)," which was a joint recording with songs chosen by EMI Sweden AB. Both "Åh Ziggy Stardust (Var blev du av?)" and "Marie i växeln" were on this record. On "Marie i växeln" we used Niklas Strömstedt on Vox organ and Janne Anderson played the guitar solo if I remember correctly… Yes, that's right. "24 december" was actually our first release on the Parlophone label! It was on the sadly underrated Christmas record "Glitter, glögg och rock 'n' roll," which was released shortly before the new decade. I remember the photo sessions for the compilation cover at Torbjörn Calvero's. We were completely thrilled! We were in the same picture as Björn Skifs, Ulf Lundell, Magnus Lindberg and Peter Ekberg. Totally amazing! I was wearning my Halmia scarf to honor the day.
The album "Gyllene Tider" was released in the beginning of 1980. By then "Flickorna på TV2" had started to ravage the airwaves. We toured constantly; our first concert was at Village in Stockholm and our first TV-program was Måndagsbörsen live (Micke Syd broke a drumstick, I wore a vest and a red tie). I remember the first interview with Kaj Kindvall in Poporama. We had reached no. 2 with "Flickorna på TV2" (Pink Floyd won with "Another Brick in the Wall,") and he asked how come they had received over 300 postcards from Halmstad with nearly identical motives, dogs and flowers. I said that we had a very large fan club… To be honest we in the band and a couple of our close friends had been lying on the floor for six hours at Mats' place in Harplinge, writing postcards and voting for Gyllene Tider until the pencils caught on fire…
In July 1980 the album and the single had sold gold (respectively 50,000 and 25,000 copies). Party at Atlantic in Stockholm, where we used to hang out. Later during 1981 the album was to sell another 100,000 copies, so that's a pretty good start…
Important happenings:
Göran Fritzon sold his moped,
we decided to buy our own PA system and
I got a birthday present from Ulf Lundell.
Per Gessle, 2000:
It all started with my family moving from Simlångsdalen to Vilshärad in the mid 1970s. I changed schools and friends, and got in touch with a guy with a moustache, who went to the technical branch of this school. He called himself MP and played drums in my school mate Pedda's band Svenssons AB. However, MP had decided to exchange his drums for a guitar (he wanted to play "Caroline" by Status Quo). But there wasn't room for a second guitarist in this band. So, MP and I (who could passably play the riffs of "God Save The Queen") founded a duo that we named Grape Rock. Decisive for this wave of self-confidence was our idea to write songs and do our own recordings, and this way approach our big dream: a recording contract!
Tough Shit!
Soon we realized that we needed more members in the club. MP's 16 years old drummer pal from Harplinge, Micke Syd Andersson, joined us and from Steninge came a left-handed bassist named Janne Carlsson. The four of us changed our name to Gyllene Tider. Oh my God, it just came to my mind, that the first song that we rehearsed was "Helen Of Troy" by John Cale…
Time went by, we skipped school and learning (I got an F in Maths), we terrorized the music business and Swedish radio, without result. Yes, we even got our own radio-show; "Bandet går vidare" ["The Band Moves on"].
In the summer of 1978 we all worked persistently (stocking potatoes, picking mushrooms, construction sites) to earn enough money for an own, simple EP that was supposed to be taking place in a 4-track recording studio in Kärleken, outside of Halmstad. The EP was finished and released the same winter and Kjell Andersson from EMI was one of the many who got this work sent by mail. He woke me up on a very cold morning in January 1979 and told me he liked 'Billy'… Things started happening…
Janne dropped out and Anders Herrlin's fretless bass and Göran Fritzon's Farfisa organ became steady influences at our rehearsals. These took place nearly every day. After all we had a wonderful, bewitching, sparkling record-deal! We were the best in the world! So, in August 1979 we started the recordings for our first album up in Stockholm with a new recording of 'Billy' and a dozen of other songs that MP and I had written. The first single was "Himmel No. 7" on which the B-side was just a small trifle… Well, MP and I had written a reggae, sort of "Watching The Detectives" by Elvis Costello and in this connection I borrowed a line from Hasse Alfredsson, "det enda jag får sätta på TV-apparaten…" ["the only thing that I get to turn on is the TV…"]. The song was called "Flickorna på TV2". What happened next was that, consequently, the radio station started to play the B-side of our first single. The discos joined in and in February 1980 Gyllene Tider and "Flickorna på TV2" were at no. 1! Awright!
(Pause for effect…)
What followed were some fantastic 1980s for us with hundreds of concerts (we'd done 6 before "Flickorna" hit No.1,) thousands of miles on the road, tens of thousands of fan-letters, hundreds of thousands of happy faces and more than 1,000,000 sold records… Until Anders Herrlin said stop a few years later, at Restaurant Svea by the summer-shy Nissan billowing outside the windows. "Everything's got its time," he said. So true, so true.