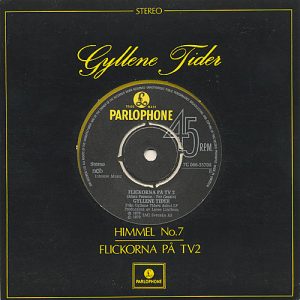 Tracks
A. Himmel No. 7 (lyrics)
A. Flickorna på TV2 (lyrics)
Release info
Gyllene Tider's debut single. The single was originally released with "Himmel No. 7" as the A-side and "Flickorna på TV2" as the B-side. What happened was that discos and the radio station started playing the B-side so the single was quickly re-issued as a double A-side. The first edition was made in yellow vinyl.
"Flickorna" was written May 6, 1979, recorded August 13, 1979, entered the chart at #17 January 23, 1980 and made it to #1 February 22, 1980.
In 1989 the single was re-released to commemorate the 10 year anniversary of the single, as yellow and black 7″s but also on a 12″ remixed by Anders Herrlin.
Chart peak position
Sweden: #1 February 22, 1980
Release dates
1979-12-10 // EMI Parlophone / Catalogue 7C 062-35709: 2 track 7″ single yellow vinyl
1979-12-10 // EMI Parlophone / Catalogue 7C 062-35709: 2 track 7″ single black vinyl
1979-12-17 // EMI Parlophone / Catalogue 7C 062-35709: 2 track 7″ single
1989-09-05 // EMI Parlophone / Catalogue 7C 062-35709: 2 track 7″ single yellow vinyl
1989-09-05 // EMI Parlophone / Catalogue 7C 062-35709: 2 track 7″ single black vinyl
1989-09-05 // EMI Parlophone / Catalogue 1357086: 3 track 12″ single