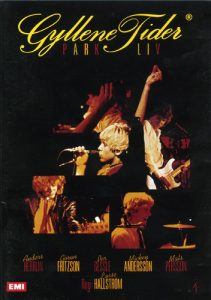 Tracks
1. Tuff tuff tuff (som ett lokomotiv)
2. På jakt efter liv
3. Det hjärta som brinner
4. Tylö sun
5. (Dansar inte lika bra som) Sjömän
6. Flickorna på TV2
7. (Kom så ska vi) Leva livet
8. Ska vi älska, så ska vi älska till Buddy Holly
9. Min tjej och jag
10. När vi två blir en
11. Ljudet av ett annat hjärta
12. När alla vännerna gått hem
Release info
Directed by Lasse Hallström, "Parkliv!" opened on October 10 1981. The sleeve of the DVD differs from the original movie poster with different fonts, colors and missing some information. The original aspect ratio of 1.66:1 has been changed to 1.78:1 in order to fit widescreen TVs.
The audio has been remixed into Dolby Digital 5.1 surround.
Fact sheet from Svenska filminstitutet.
Chart peak position
Sweden: #3 October 8, 2004
Release date
1981-10-24 // SF / Catalogue -: In theaters
2004-09-29 // EMI / Catalogue 5999589: 12 track DVD