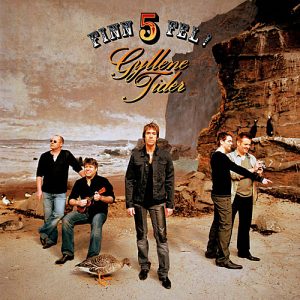 Tracks
1. En sten vid en sjö i en skog (lyrics)
2. Solsken (lyrics)
3. Tuffa tider (för en drömmare) (lyrics)
4. Ordinärt mirakel (lyrics)
5. Ta mej… nu är jag din! (lyrics)
6. Jag borde förstås vetat bättre (lyrics)
7. Du måste skämta (lyrics)
8. Nere på gatan (lyrics)
9. 72 (lyrics)
10. Ande i en flaska (gabba gabba gabba come on come on karma karma) (lyrics)
11.  Varje gång det regnar (lyrics)
12. Hjärta utan hem (lyrics)
13. Speciell (lyrics)
14. Har du nånsin sett en dröm gå förbi? (lyrics)
Release info
Gyllene Tider reunited in 2004 to see "what would happen" and maybe record a single. Turned out they enjoyed recording so much they made a full album. Finn 5 fel! sold in excess of 260,000.
A song recorded but not used on the album is "Choklad, vanilj, jordgubb," later renamed "Filmen om ditt liv." Finn 5 fel! was also supposed to have been accompanied by a new EP with four covers, but as one of the bands covered refused to have its song translated the EP was scrapped. One of the bands covered would have been The Human League.
Anders Herrlin: "The new album sounds like how we wanted to sound back in 1980. Most of the songs were recorded in less than half an hour. We also decided that no other instruments were to be used than our own. The synthesizer sounds are actually all made by the Farfisa, for instance."
Per later admitted that only half of the album was OK. Half of the songs weren't specifically written for Gyllene and that showed, he claims. I agree.
Chart peak position
Sweden: #1 June 18, 2004
Norway: #26 June, 2004
Release date
2004-06-09 // Capitol Elevator Entertainment / Catalogue 7243-5710922 : 14 track CD (copy protected)
2004-06-09 // Capitol Elevator Entertainment / Catalogue 7243-5710912 : 14 track CD