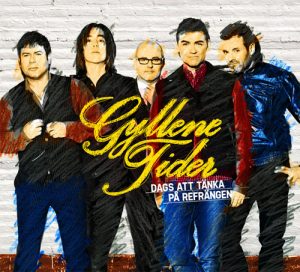 Tracks
1. Det blir aldrig som man tänkt sej (lyrics)
2. Man blir yr (lyrics)
3. Singel (lyrics)
4. Allt jag lärt mej om livet (har jag lärt mej av Vera) (lyrics)
5. Tio droppar regn (lyrics)
6. Jag tänker åka på en lång lång lång lång lång resa (lyrics)
7. Lyckopiller (lyrics)
8. Chikaboom (lyrics)
9. Anders och Mickes första band (lyrics)
10. Tiden är en dåre med banjo (lyrics)
11. Knallpulver
12. Dags att tänka på refrängen (lyrics)
Release info 

Gyllene's sixth studio album, the second one recorded in AGM. The first single is Man blir yr and the second Singel #2. The double CD includes all the T&A demos. The LP's track list is slightly different shifting Jag tänker åka på en lång lång lång lång lång resa and Lyckopiller.

Chart peak position
Sweden: iTunes #1 24 Apr. 2013
Sweden: Album chart #1 3 May – 14 June 2013, 19 weeks in the chart.
Release date
2013-04-24 // Capitol Elevator Entertainment / Catalogue 98421824 : 12 track CD
2013-04-24 // Capitol Elevator Entertainment / Catalogue 98421923 : 24 track double-CD
2013-04-24 // Capitol Elevator Entertainment / Catalogue 98421817 : 12 track LP